In this post, we'll talk about NameCheap In Nigeria.
Daily we visit websites to transact, read, get news, and more. However, to get to such sites we need domain names. Name cheap in Nigeria is one of the best places to get one.
Domain names are the names that one uses to get to a certain website.
What is Namecheap?
Namecheap is a domain registrar and hosting company, it's based in Los Angeles, California. It was founded in March 2001.
Namecheap has over 1 million customers worldwide. It has offices across the globe consisting of America, Russia & India.
Besides Namecheap offering an extensive list of services such as:
Domain registration and transfer

Web hosting

WordPress

Email

Site maker and more.
Domain names are words or phrases that are addressed to Internet resources. The Domain Name System (DNS) uses IP addresses to locate these resources.
These domain names must be registered before you can use them. A person or entity wishing to use a particular domain name has to register it.
Domain names must be unique and can include letters, numbers, and hyphens. The maximum length of a single-word top-level domain (TLD) is 63 characters.
More than 1 billion individuals visit .com websites on the Internet. This averages 3.1 page views per session and over 300 hours of video watched each minute according to Google Analytics.
The average domain registration period is 10 years and each extension must be renewed within 45 days of its expiration date. *Periods vary between registries*
A domain name does not have to replicate a business's current website name. You can choose any available random domain that you like or one that has already been searched before by a competitor.
There are no limitations for the choice of the .com/net/org TLD or URL name as long as it is unique.
Is Namecheap good for domains?
Yes, Namecheap provided affordable domains for as low as $2.99. Also, they have safety measures that one can include when purchasing a domain.
This means that they protect your domain privacy for free. No one is able to access your domain name details.
Choosing a Domain Name
Price
This determines how much you'll have to spend to obtain your domain name. Choosing a domain name that is unique and not trademarked by someone else will save on renewal costs in the future.
Search popularity
Find out how many searches have been done for a particular phrase as well as the registration date of previous domains using it.
Know its popularity and search context. Know what people search for and whether it fits your business criteria.
Keyword relevance
A keyword is a popular word searched for by many. A keyword that fits your website is likely to be sought after. Namecheap in Nigeria – is a great keyword that can get visitors to your website easily.
This may get more visitors through search engines and increase traffic. A keyword may also help with SEO (search engine optimization) efforts.
Short and easy
We all like conversing and having a short name makes it easy to remember. One also isn't prone to typographic errors as compared to large names.
Have a name between 6-14 characters. Make it unique and brandable since these names are competitive.
Hyphens and Numbers
This combo is not recommended for a domain. One may often forget to add them or type errors when someone else tells them about it.
In addition, people often associate such sites with malicious sites. They also seem unprofessional and people may not want to transact with you.
Avoid trademarks
An already registered company name is risky. A company can sue you and one may end up losing their business and many more expenses.
Build a reputable brand by eliminating chances of copyright infringements. One can do this by checking social media, the internet, and more resources.
Namecheap in Nigeria pricing plans (1 year)
Domains
| | | | |
| --- | --- | --- | --- |
| Extension | Register | Renew | Transfer |
| .com | $8.88 | $12.98 | $8.58 |
| .net | $10.98 | $14.98 | $11.48 |
| .org | $9.18 | $14.98 | $11.48 |
| .me | $5.88 | $18.98 | $14.98 |
Web hosting(Shared hosting)
Plan

Cost

Features

Stellar

$2.88/month

3 Websites

20 GB SSD

Free CDN

Stellar Plus

$4.88/month

Unlimited Websites

Unmetered SSD

Free CDN

AutoBackup

Stellar Business

$8.88/month

Unlimited Websites

50 GB SSD

Free CDN

AutoBackup

Cloud Storage
All plans have these inclusive:
Unmetered bandwidth

Free website builder

The domain name and privacy protection

Free automatic SSL installation

Free Supersonic CDN

30-day money-back guarantee
The pros and cons of Namecheap
Pros
Affordable
Namecheap has customized plans for everyone. They have cheap domains from as little as $2.99, hosting from $3.88; your business keeps growing.
Namecheap also provides you with WhoisGuard for free for a year. It costs you nothing to keep your identity safe.
Free domain and migration
Once you sign up for web hosting from Namecheap they offer a free domain. They also help you migrate your site to their hosting for free.
That's saving you a lot of costs. You get to host and accomplish tasks easily and fast. Besides, there is more security.
Backups
Namecheap offers to keep your data safe. That is you are guaranteed data safety in case your website runs into issues you can restore previous versions.
They occur twice a week.
Cons:
They lack phone support.

Money-back takes time to process.

Slow loading pages.
Namecheap alternatives
GoDaddy
It's an established domain and web service provider. It also provides:
Domain Names

Websites & Stores

Website Security

Marketing Tools

And more.
The Pros and Cons
Pros
Ease of use- It makes it easy for everyone to go online fast and easily.

Affordable- GoDaddy has plans for everyone.

Has a good reputation- has been running for a while and has a good name.

Many payment options- opt to pay for services with many options.
Cons:
Website restoration- it costs you up to $300 to restore your website's data.

They don't have a live chat, you have to talk to agents.
It's an ICANN-accredited domain registrar and web host service provider. Namesilo provides:
Domains

Hosting

Security

Email

Reseller Program

Free Logo Maker

And more.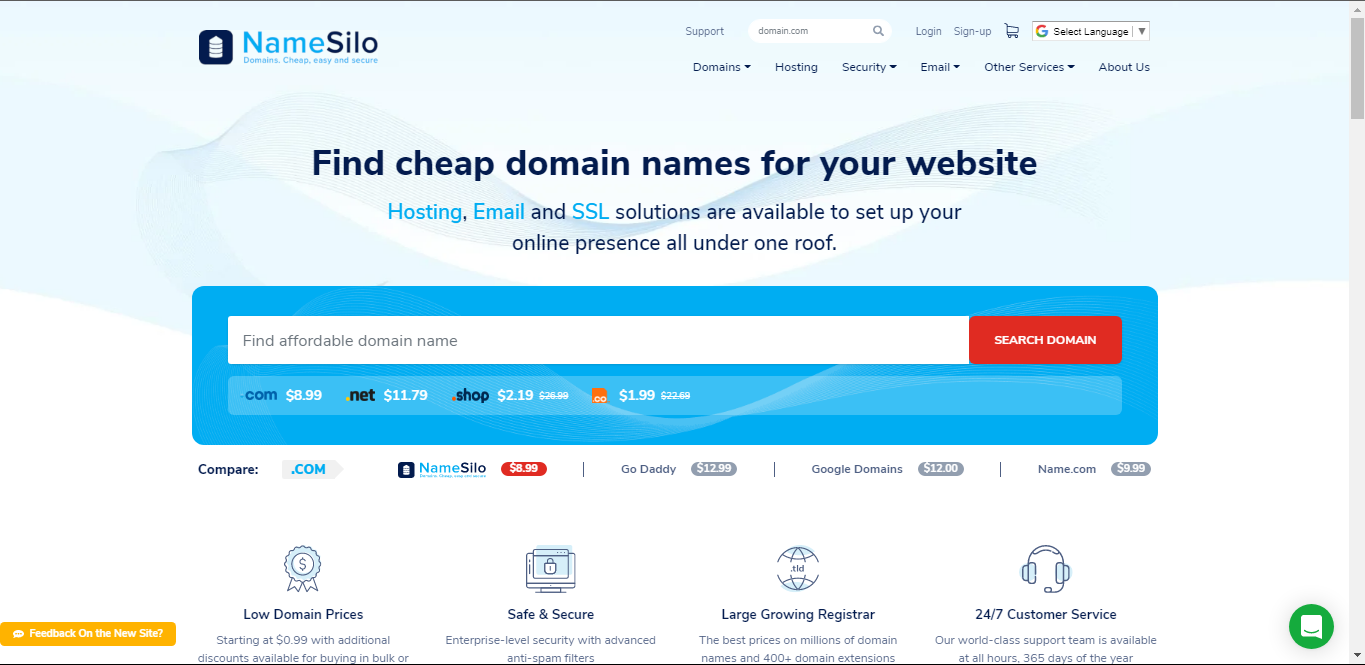 Pros and cons of Namesilo
Pros
Affordable- Namesilo has the cheapest domains. They also don't have hidden charges for their services.

Secure- protects all domains with a domain defender. It's also free.

Has a variety of TLDs- offers more than 400 extensions to choose from.
Cons
The design is not impressive- it needs some touches on the overall design UI.

Lacks on-board management- it comes with many features that don't have a manual on how to utilize them.
Truehost is the best service provider. It's an alternative to Namecheap in Nigeria. Truehost understands the value for customers.
Here is what Truehost Nigeria provides:
Hosting

Domains

VPS & Servers

Support

Free Website

And more.
Truehost hands you the necessary tools to make sure you go live instantly.
The above are a few NameCheap in Nigeria alternatives. Namecheap is affordable, secure, and easy to get your ideas online.