In this article, we explain the process of how to configure emails on Outlook. We'd also tell you about how to get your own email hosting in Nigeria.
Microsoft Outlook is a personal information manager software system from Microsoft, available as a part of the Microsoft Office suite. Though primarily an email client, Outlook also includes such functions as calendaring, task managing, contact managing, note-taking, journal logging, and web browsing.
Individuals can use Outlook as a stand-alone application; organizations can deploy it as multi-user software (through Microsoft Exchange Server or SharePoint) for such shared functions as mailboxes, calendars, folders, data aggregation (i.e., SharePoint lists), and appointment scheduling. Microsoft has released apps for most mobile platforms, including iOS and Android. In addition, Windows Phone devices can synchronize almost all Outlook data to Outlook Mobile. Using Microsoft Visual Studio, developers can also build their own custom software that works with Outlook and Office components.
How to Configure Emails On Outlook
The instructions below will guide you through configuring email on your outlook without stress:
1. Open outlook on your computer
2. Select Account settings
3. Click Add new account
4. Fill in details required on pop up form
-Name as the email sender's name
-Email as the email address being set up
-Select either POP3 or IMAP as the preferred email set up (IMAP-for accessing your email from multiple devices;POP3 for accessing very large number of emails using one device)
-mail server (incoming) as mail.your domain name
-mail server (outgoing) as mail.your domain name
-username as the email address being set up
-password as the email password
5. (a)Click Next for auto account set up
-The email auto configures itself and finish button appears
-Click finish to save configurations
Alternatively, the email does not auto configure itself, use manual configuration
5(b)Select manually configure server settings
6 Click next to save new selection
7 Click more settings to configure manually the required specifications
8Under outgoing tab, select my SMTP requires authentication and select use same settings as my incoming mail server
9. Under the Advanced tab, Fill in the following
(i)Incoming port: 143 for IMAP OR 110 for POP3 with Encryption as TLS and SMTP as 25 or 587
(ii) Alternatively use Incoming port as 993 for IMAP OR 995 for POP3 with Encryption as SSL and SMTP as 465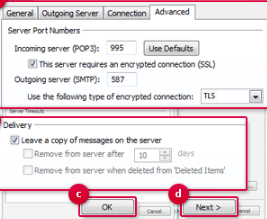 10. Tick this server requires an encrypted Authentication
11. Select Leave a copy of messages on the server
12. Click OK to save settings
13. Click Next button to exit the advanced tab
14. Click Finish to complete the outlook set up
A successful message notification will appear.
TrueHost Cloud Nigeria (Recommended)
TrueHost Cloud is one of the most sought-after hosting services in Lagos. This is because it offers the cheapest packages in web hosting and email hosting in Nigeria. TrueHost Cloud, however, is not only affordable, but it is also reliable and very easy to use.
TrueHost Cloud Nigeria focuses on providing registering domains, web hosting and email hosting in Nigeria. It is very affordable and very reliable. On top of that, TrueHost is really concerned about the businesses it is working with.